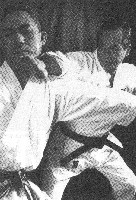 KARATE-DO AS A MARTIAL ART
In the style of Genseiryu Karate-do, we have a training system consisting of Kihon Gyogi, which was created with the aim of providing an intensive way to learn the unique techniques of Genseiryu Karate-do.
Kihon Gyogi is composed of Shiho Tsuki, Shiho Tsuki Keri, Shiho Nuki and Happo Nuki. I later created and implemented - after long and thorough research - the Yakusoku Kumite as well as the Goshin Jutsu into the style, by combining the unique and basic techniques of Genseiryu Karate-do.
All the techniques implemented in the Kihon Gyogi were researched as pure martial arts techniques with the purpose of emphasizing the exact moment when the difference between life and death occur. I doubt that these techniques are practical nowadays under rules, which JKF has enacted.
It has always been stated, that the position, which karate-do is given, is based upon its superior rationality as a sport with social educative qualities through its spiritual beauty. Considering karate-do as a martial art, I then believe that karate-do will become elevated to a higher level of culture by continuing the efforts of bringing instructors up as well as endlessly researching techniques of training while pushing our limits.